The consumer has spoken and wants a tasty  snack like PeaTos®.
The outlook for salty snacks remains bright. This category had a compound annual growth rate (CAGR) of nearly 4 percent between 2012 and 2017, with retail sales of $24 billion in 2017.
According to IRI, Chicago, for the 52 weeks ending May 31, 2019, the massive salty snacks category grew 4.9 percent to a value of $24.9 billion. The puffed and extruded snacks were responsible for approximately $9 billion.
The outlook and growth remains strong with a CAGR of 7.2% for the puffed snacks market over the forecast period from 2019-2025 according to ReportLinker.
Companies that can produce products that are flavorful but also healthy and nutritious will be rewarded.
This will create new taste and flavor combinations using alternative (non-potato) ingredients and include different proteins, grains, vegetables and super foods in different shapes and textures.
The consumer is changing their preferences from classic fried snacks to puffed snacks due to growing health concerns. Factors like the pandemic, busy lifestyle, late retirements, less leisure time, and increased snacking, or multiple smaller meals, throughout the day, has consumers wanting foods that are less messy, convenient, and nutritional.
The space has been dominated by Cheetos and other old school brands for too long," as Nick Desai, Founder and CEO of PeaTos® Brand, a division of Snack it Forward, Los Angeles, added. "We need fresh ideas and varieties within products that provide the familiar indulgence that people crave, but also some of the attributes that the 'better-for-you' category brings to the snack foods industry. He noted that consumers increasingly won't trade taste and experience for better health."
Nick Desai and others created the world's first "Junk Food" Taste Made From Peas. He felt that there was golden opportunity to create another snack product that tastes great with fine texture and has additional health benefits instead of entering the markets with many fine healthy food products and only Frito Lays in the market.
There are important agricultural advantages as a crop, including its better water efficiency and reduced reliance on fertilizers compared to corn. Areas like India use peas as snacks for the above reasons and it is better to use especially given the economics. Also, there are concerns about availability of water in certain areas. PeaTos® uses innovative and proprietary techniques.
The sales of PeaTos® is growing at a rapid pace due to their fine taste, texture, and some added health benefits. They have a talented team led by Nick Desai, founder and CEO of World Peas Brand PeaTos®, a division of Snack it Forward, Los Angeles. He has vast experience as lawyer in the entertainment business, investment world, and nut and trail mix company.
He has a talented team of early investors and advisers on their side, including high-profile food industry veterans like Lenny & Larry's former CEO Apu Mody (former President of Mars Food North America), Carlos Barroso (former head of Global R&D for Frito Lay), Carl E. Lee Jr. (former President & CEO at Snyder's Lance), Dean Hollis (former President and Chief Operating Officer of ConAgra Foods), Greg Pearlman of JSMP to the Board, and Chief Investment Officer at Connetic Ventures Kyle Schlotman. The 7 Time NBA All-Star and Hall of Famer Tracy McGrady has signed on to do a series of social media initiatives to back the brand and is an investor.
Below is the link of Tracy McGrady's rising endorsement of the product where is an investor too.
https://www.businesswire.com/news/home/20201001005359/en/NBA-All-Star-and-Hall-of-Famer-Tracy-McGrady-Says-New-PeaTos%C2%AE-Brand-Chips-Are-a-Slam-Dunk
They have 4g protein [twice that of Cheetos], 3g fiber [three times that of Cheetos] and 130 calories [vs 160 for Cheetos] per serving with no synthetic colors, flavors or added MSG, coupled with less fat [8g vs 10g] and less sodium [200mg vs 250mg].
This product, PeaTos®, is non-GMO. The proportion of shoppers shunning genetically modified foods has tripled over the past decade, according to The Hartman Group, Bellevue, Wash.
In November, Californians will vote on proposition 37, a controversial measure that would make the state the first in the country to require food producers to label genetically engineered foods.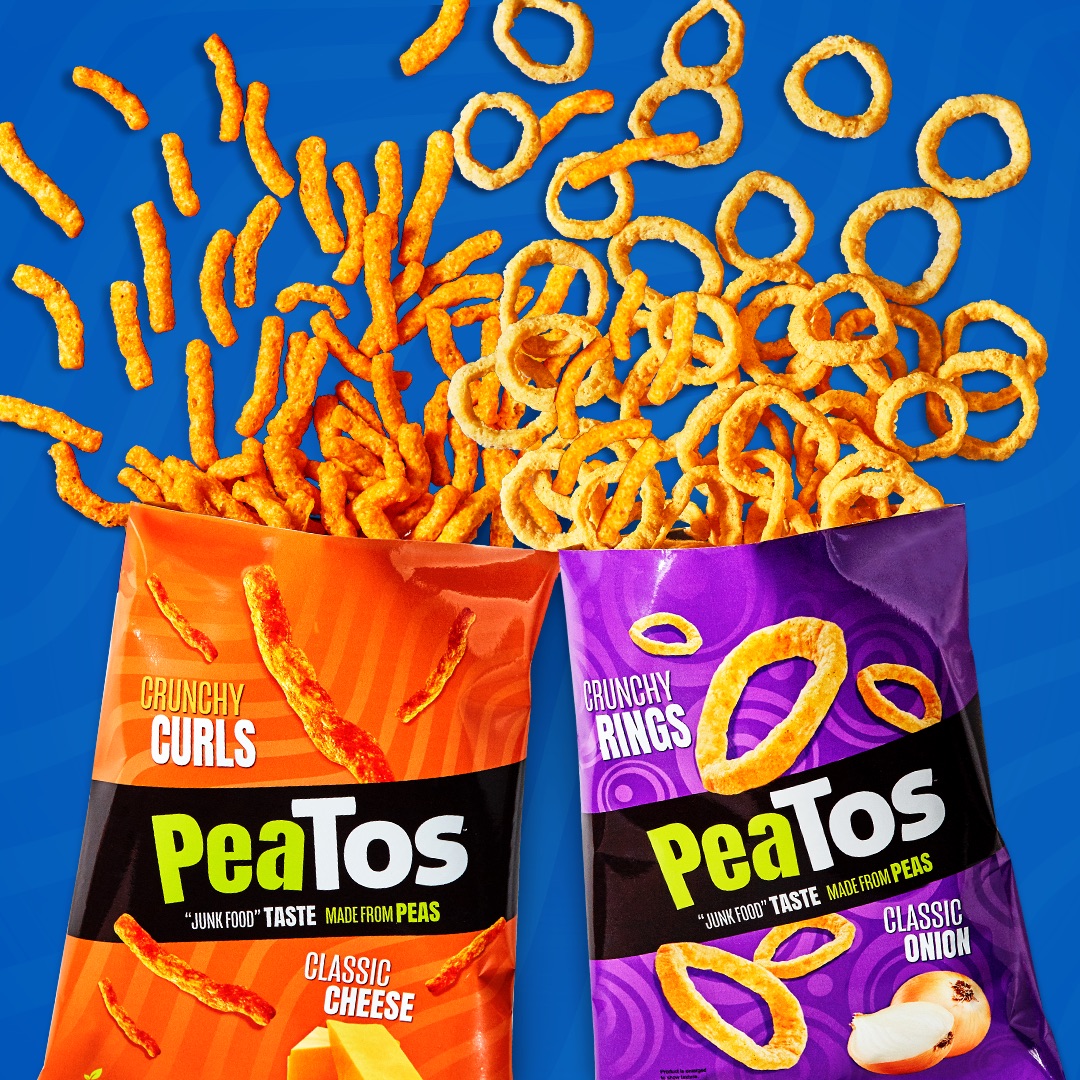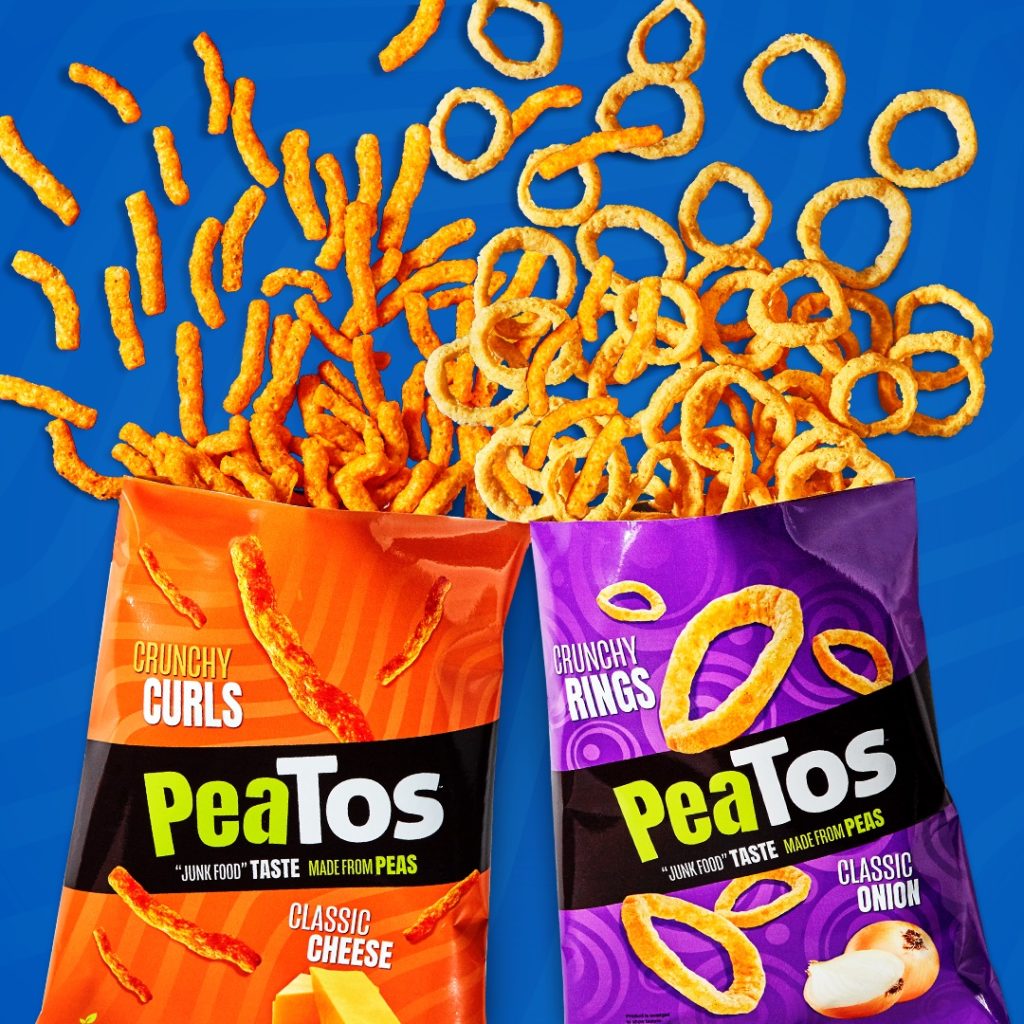 PeaTos® are available in two styles: crunchy curls and crunchy rings, and five bold flavors including Classic Cheese Curls, Fiery Hot Curls, Zesty Ranch Curls, Classic Onion Rings, and Fiery Onion Rings.
The dynamic team at PeaTos® realizes that they need to things differently in order to gain sales, market share, consumer awareness, and acceptance. The company uses a dedicated sampling program to get the products out to influencer and consumers. Desai in February, noted that PeaTos had sent out around $40,000 worth of samples in January alone.
Also, their product is in different areas, markets, and aspects. This can be found in produce areas, some health clubs, on Alaska airlines and currently available in more than 4,700 retailers across the U.S., including Kroger, Safeway, as well as on e-commerce platforms such as Amazon.
Snack It Forward, a private United States based snack company since 2011, is the parent company. Also, they have freeze-dried fruit snacks branded 'Sunkist Snacks'.

More about the company and their fine products can be found at: https://peatos.com.